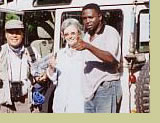 Eulogy for Mama Makora
Anybody who knows Cowabunga Safaris knows that Nancy G. Cherry was the "Matriarch of Main Camp." To use Gary's words, Nancy – a.k.a., Mama Makora -- was the operation's nerve center. Nancy passed away on Wednesday, February 28, 2007 at the age of 77.

One of Nancy's most visible contributions to Cowabunga Safaris – indeed, one of her greatest joys – was to interact with safari alumni, visitors and curious passers-by. In her capacity as Cowabunga's Administrative Officer, Nancy was always the consummate professional.

It is with a smile we remember moments where Mama Makora was willing – just – to let go of her professional reserve. As many know, Nancy was seemingly always aware of manners. Yet, this well-dressed, well-spoken representative for Cowabunga Safaris had little hesitation exclaiming "HAKI YA MUNGU!" when consternated with Gary or Brian, or when faced with an unexpected eventually. Translated into English from Swahili, "Haki ya Mungu" roughly has the meaning "For the love of God." In Swahili culture, in some social circles, using the phrase "Haki ya Mungu" can be the equivalent of screaming a four-letter expletive. We recall how, while on safari, various African friends first would stop in their tracks and then be brought to laughter after Nancy used the phrase. It just wasn't to be expected from such a proper lady.

Nancy's first safari was to Kenya in 1974. She was fond of saying after she drank the water she became a safari junkie, returning to the continent whenever possible. All told she went on nearly 30 safaris.

Nancy's long-standing involvement in conservation and education began in 1964 when she was asked to join the Friends of the Topeka Zoo Board. She started the Zoo Docent Program in 1967 and after it was off and running she became Editor of the Zoo magazine, which won several awards over the years. Nancy was also Special Events Coordinator for the Zoo. All of this was as a volunteer.

After 26 years at the Topeka Zoo, she left and volunteered at Cowabunga Safaris as its Administrative Officer. For nearly two decades she "guarded" the central office (affectionately known as "Main Camp") in Topeka, Kansas, researched and wrote itineraries, handled faxes and mail, answered countless phone calls with a friendly "Jambo, Cowabunga Safaris," and generally kept Gary, the self-declared "President for Life" of Cowabunga Safaris, organized.

Memorial contributions in Nancy's name may be made to Friends of the Topeka Zoo, 635 SW Gage, Topeka, KS 66606, or the Topeka Jazz Workshop, PO Box 452, Topeka, KS 66601, or the Shawnee County Historical Society, PO Box 2201, Topeka, KS 66601.

In many African cultures, one's ancestors serve as guides in this world from the next. Nancy's spirit lives on. We hope all who knew her will listen for her continued guidance on how to live, how to love, and how to laugh. Safari njema, Mama Makora. Safari njema.